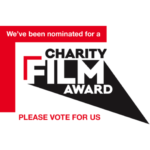 The '12-24′ film has been nominated for The Charity Film Awards! We made the film as part of a fundraising project for research into the benefits of nutrition on EDS, supported by the charities EDS UK and The Ehlers-Danlos Society. You can read details about the project and how it began here (link).
Last year over 400 charities entered the awards, over 60,000 members of the public voted and about 10% donated to a cause. So it was great news to be nominated and we're working hard on social media to try to encourage votes for our film.
My father and I both worked very hard on the film. It was fun to work on the project together, although it led to a few 'creative differences'. Thankfully they were all resolved easily by my father realising he was wrong (I hope he reads this! ?)
You can watch the 12-24 film, and vote, on The Charity Film Awards website. Here's a link to our voting page (link). We'd be very grateful for every vote. Voting closes in just two days, on Friday 14th December! If you'd like to support our nomination you could also post a link on your own social media pages.
Below is the poster for our campaign, featuring Rudi, Ruby, Bethanie and Lucy, who star in the film and all struggle with Ehlers-Danlos Syndrome. Rudi was just 7 years old when the film was made.
I'm sorry this is such a short post. I'm currently busy working on a film to announce the fundraising total for the 12-24 project after one year. The film will be on the social media channels of both charities next week.
Thanks for reading and please vote! Ceri.