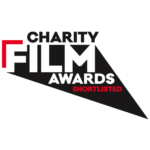 Unfortunately, a few weeks ago this website was hacked. For a short period the google link took people to a site selling pain killers. Thankfully I managed to get control of the website again, but it was tricky and took a couple of hours. The hack was partly my own fault as I hadn't updated the software for this website for a while. I have resolved to take much better care of my blog in future!
It took a while to repair all the problems the hack caused, so I'm very very late posting this news, sorry…
The 12-24 film has been shortlisted for the final of The Charity Film Awards! This means we did very well in the public vote. Thank you so much to everyone who voted, we're very grateful. The Charity Film Awards have been great publicity for our campaign and have helped raise awareness of EDS. Judges will now decide which 5 films from the shortlist in our category go through to the final in April. The finalists will be announced in the next month.
When the film was shortlisted we were asked some additional questions about our project: What was the aim of the film, and what has it achieved etc.? Thankfully I think we had some very good answers… The film cost £2500 to produce and in the first 12 months we raised an incredible £201,000! The film has been viewed over 250,000 times from all around the world, and we're hopeful the research will start in the next few months.
The final of the film awards will be held on Friday 26th April at the brand new 'etc.venues', in Liverpool Street, London. It's a black tie event that last year was featured on the BBC news. I can't say I'm optimistic we'll win, but to reach the final would be fantastic and brilliant publicity for EDS. Fingers crossed!?
Thanks for reading, Ceri.
Here's the 12-24 film for anyone who hasn't seen it:
I think this film has a good chance of winning our category: