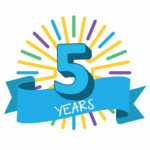 Five years ago I started writing this blog. My first post 'Hello World' talked optimistically about raising awareness of EDS, and sharing my story to help others with the condition. I committed to writing the blog for a year and then to decide if I was achieving anything. If not, I joked I would turn it into a Star Wars fan site. Five years on, with a new Star Wars film just a few weeks away, I thought it would be good to see what I've achieved through the site, and update you on my story.
This article is the 33rd I've posted on my site, but the first for nine months. I wrote sixteen posts in the first year, but progressively fewer in each year since. So what happened? Did I lose interest and motivation? To some degree yes, but mostly I got very distracted. Article number nineteen – 'Could Nutrition Supplements Improve the Symptoms of EDS' turned out to be rather significant. It attracted more views and comments than any other article by far and I still regularly get emails about it. I've already told the story of what happened next on this site and don't want to repeat myself, but as a quick summary, working with the charities EDS UK and The Ehlers-Danios Society we raised £204,000 for nutrition research and our promotional film was shortlisted for the final of The Charity Film Awards.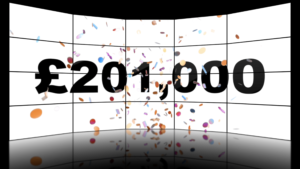 I enjoyed the project and as I have little work experience I learnt a lot from it. I particularly enjoyed the film work, which became my role within the team. However, the project took up far more energy than I ever imagined. Most of my limited spare time for 18 months was spent on it. The fundraising went very well, but at the expense of other areas of my life and I needed some time off EDS work once the social media campaign had ended.
Interest in my blog declined a lot in that time too, partly because I wasn't updating it, but also because the social media landscape has evolved. When I started this site there were six other EDS blogs. Now there are too many websites to count. There are also hundreds of personal Instagram and Facebook pages by people with EDS, all aiming to raise awareness, and the two charities have 120,000 followers between them. I started my own Instagram page a couple of years ago. I quickly got to over 300 followers, but found they were mostly other people with EDS so it felt more like a support group than a place to campaign. I've posted on Instagram progressively less often too.
So what now? Should I finally start that Star Wars fan site? …I did need a break for a while, but I've put a lot of effort into this blog over the last five years. I wrote other articles that also got a lot of interest, such as 'EDS and Anaesthetics' which has been linked to by a number of other websites. I also had three articles published in charity magazines which helped raise the profile of this site. But I think the highlight of my blogging experience has been getting messages from other people with EDS from all around the world. EDS is a difficult condition to live with and awareness is still poor even among doctors, so thanks to the internet we've formed into a very supportive community and it's always great to hear from people. In the last couple of weeks alone I've made two new EDS friends. Hello Meirav from Israel and Helen from Derby!
So I'll be continuing to blog and trying to achieve things through the site, but you may notice the direction change a little. Other people with EDS and the two charities are much better at raising awareness than me, so it will probably be more about my personal journey with EDS from now on, mostly for people who know me or already follow the site. I'll try to avoid long breaks between posts again, but I've become involved in another EDS fundraising project which may be time consuming next year. I'll also be keeping the film work going. I'll have news on that soon, so watch this space…
Thanks for reading, Ceri.